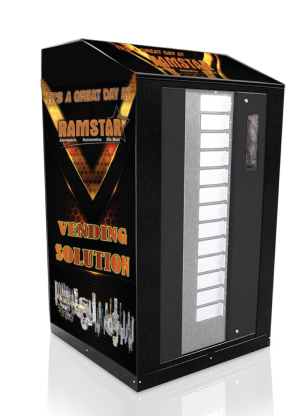 Vending machine solutions are a necessary part of doing business in 2020 and beyond.
At a time when COVID-19 has led to a slowdown and even shutdown in some areas of the manufacturing sector, the need to enhance productivity and efficiency has cast a spotlight on vending solutions.
Integrating RFID tags for inventory management and cloud infrastructure- leads to requiring less staff intervention and protecting unauthorized access with use of security codes.
Ramstar develops a Vending Machine solution specific to each customer – whether they need carbide inserts, screws and other items related to a specific job or a checklist with cart-like functionality.
An operator can develop a list of needed tools for a job and then click issue and the vending machine provides all tools at once.
At Ramstar we develop a strategy along with a Vending Machine solution.    We can also provide regular stock reviews.
The key to the best Vending Machine solution is investing time and money up front to set up a plan specific to a customer's need.
"We are all about customization," says Ramstar president and CEO Dino Bavetta. We can work with a customer to review trends and patterns and look at the long-term goal of efficiency and cost savings."
5 WAYS RAMSTAR'S VENDING MACHINES IMPROVE BUSINESS
LESS WASTE: The stock we provide is the stock you need. No excessive inventory.
COST-SAVINGS: Minimal waste. Theft prevention.
EFFICIENCY: Less paperwork. Less time spent ordering tools.
INCREASED PRODUCTIVITY: Usage is accountable. Time can be spent on actual work vs hunting for tools.
WORRY-FREE SOLUTION: Ramstar takes care of stock and carrying costs, saving you time, energy and money.
Ramstar provides a distribution network of over 30 carbide tool-supplying vending machines in shops across Windsor and surrounding areas. We provide flexibility- delivering cutting tools when you need them.
This 24/7 availability and immediate access to tools on demand – as well as technical support from our trained experts – is just another way that Ramstar offers the ultimate in customer convenience.
When you lease a Ramstar vending machine for a five-or-seven-year term, the benefits are immediate: the consigned inventory instantly cuts down on administration time and costs.
"It's a turnkey solution where they don't have to manage any of the tooling," Bavetta explains.
"Clients don't have to spend time sorting and organizing and figuring things out. They just tell us – there are the items we want stocked – and we manage it for them."
With a storage capacity of 198 items per drawer, each machine is supplied according to shop demand, with customers only paying for the product on a per-use basis.
There is also a theft deterrent.
"You've got the security that if you're looking for one item, you can't take another item at that individual storage station," says Bavetta.
"We always prioritize client needs ahead of our own at Ramstar," says Bavetta
Another Ramstar vending machine advantage? Leasing one allows for short-term and long-range planning and strategizing.
"By using our machines, our customers can effectively plan their budget," says Bavetta. "They can say, 'well, to do this job, we used "x" amount of tools.' You can not only use that modeling for any future budgets, but also incorporate the cost of jobs in the past."
There's also the obvious benefit: the immediacy of having the tools you require at your fingertips – especially for those labouring on weekends or outside regular business hours – is invaluable.
Derek Bavetta, Vice-President of Ramstar, says vending machines on site at workplaces is trending because of the many advantages.
"It provides tooling at your desired need. You don't need to call someone. It's a time-saving measure."
The automation offered in the two brands that Ramstar offers – IMC Matrix and Widia ToolBOSS – results in the software issuing reports regarding supply, orders and repair: the company exclusively maintains, repairs and services all of its machines.
With the added appeal of end-of-the-month billing, Ramstar is now ready to expand its network to encompass the entire greater Toronto area.
So, when you're seeking vending machine solutions for your shop, only one name should come to mind: Ramstar.
Contact us at Results@Ramstar.net and let us review your needs and goals to find the best option for your business.